All agents have different personalities and philosophies . . .
As with other professionals, when you select a real estate agent, demand high standards. Make sure that trust and integrity are not just a spoken claim but granted by deserved reputation in the community that the agent serves.
Determine if the agent has established a strong record of consistently fulfilling promises and providing customer satisfaction. Consider the agent's educational training. Is it appropriate? Does it enhance the skills? Request a summary of the agent's experience and review the track record.
Sample Questions:
Do you have references?
Do you have any professional designations?
What recognition levels have you achieved?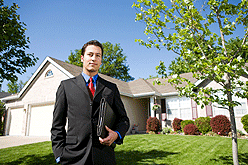 Agents all have different personalities and philosophies. Try to select one with a philosophy and personality that you find agreeable and who you can communicate with easily.
Selecting Your Agent
You should have confidence that the person you select will be a trusted advisor. It is imperative that you work with an agent who you feel has your best interests in mind.
Excellent communication skills are a must. Select an agent that you feel will have the ability to work cooperatively with sellers and other agents during the entire process of purchasing your property.
A good agent can be the foundation of your real estate team. An agent can help you find a home that meets your needs, negotiate for that home on your behalf, supervise property inspections, and coordinate the closing. Agents often have useful leads for mortgage loans. A good agent's negotiating skills and knowledge of property values can save you thousands of dollars.
---
About United Country Real Estate
United Country Real Estate is the leading, fully integrated network of conventional and auction real estate professionals specializing in lifestyle and rural real estate. The company has been an innovator in real estate marketing since 1925, with a unique, comprehensive advertising program. This exclusive program includes the highest ranked and largest portfolios of specialty lifestyle property marketing websites, unequaled national print advertising, the largest internal real estate advertising agency, an extensive buyer database of more than 650,000 opt-in buyers and additional proprietary programs to advertise properties more broadly.
Done
Listing added to Favorites
Done
Listing removed from Favorites