Getting Your Property Ready To Sell
Nothing is more important than the first impression . . .
When you put your property on the market, you want to achieve the best sales price you can get, and do so within the time-frame that meets your needs. Nothing is more important to most buyers than the first impressions they receive.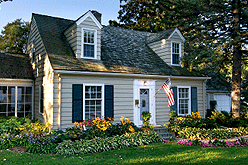 PAINTING—At the top of the list for creating good impressions. Inspect interior walls as well as the exterior including trim, gutters, downspouts, mailbox, etc.
YARD—In addition to proper cutting and edging of the lawn, trim landscaping and weed flower beds. Also check for dead branches in trees and shrubbery debris. Store all outdoor lawn equipment and toys.
SPRINKLER SYSTEM—Check for defective heads and for proper water coverage over entire lawn.
FENCE—Repair where necessary and paint or stain if needed to give your yard that well-maintained appearance.
GARAGE—Check garage doors and opener to see if they are in good working order. Inspect doors for painting or staining. Remove and reorganize garage items.
DRIVEWAY—Check for grease and oil spots. When showing the property, it's best not to have vehicles parked in the driveway.
PATIO—Clean patio and arrange outdoor furniture.
POOL—Have pool sparking clean. Store equipment and chemicals out of the way.
ROOF—Check for loose shingles or broken tiles. Make sure eaves are cleared of leaves. If mildew has occurred, consider professional cleaning.
FRONT ENTRANCE—Front door should be clean and all trim painted or stained. Check doorbell and outside light to see if they are operating properly.
AIR-CONDITIONING—Certainly, the air-conditioning system must be functioning at top performance, but also check for proper draining, install a new filter, and clean exterior unit.
WALLS—When checking for cleaning and possible painting of interior walls, look closely at wallpaper for repair or replacement, if needed.
DOORS—All interior and exterior doors should be cleaned, hardware tightened and oiled for smooth opening and closing.
WINDOWS—Repair or replace all broken windows or screens. All windows must be cleaned to show the home at its best. Check blinds and draperies for cleanliness.
ELECTRICAL—Repair all switches and outlets that are not working. Good lighting through adequate wattage in garage, hallways, and closets will brighten up your home.
PLUMBING—Leaking faucets always raise questions about plumbing. Clean stains from stainless steel sinks and check enamel for repair.
APPLIANCES—All appliances should be in good working order and CLEAN. In particular, oven and stove top, refrigerator, dishwasher and microwave.
KITCHEN—A bright, cheerful kitchen is a must. Clean all surfaces, check for loose knobs or sticky drawers, clean exhaust hood and organize drawers and cabinets.
BATHROOMS—Clean mirrors, shower doors, curtains, tub caulking, and flooring. Just when you decide to clean the bathroom "later" is when the prospective buyer rings your doorbell.
---
About United Country Real Estate
United Country Real Estate is the leading, fully integrated network of conventional and auction real estate professionals specializing in lifestyle and rural real estate. The company has been an innovator in real estate marketing since 1925, with a unique, comprehensive advertising program. This exclusive program includes the highest ranked and largest portfolios of specialty lifestyle property marketing websites, unequaled national print advertising, the largest internal real estate advertising agency, an extensive buyer database of more than 650,000 opt-in buyers and additional proprietary programs to advertise properties more broadly.
Done
Listing added to Favorites
Done
Listing removed from Favorites